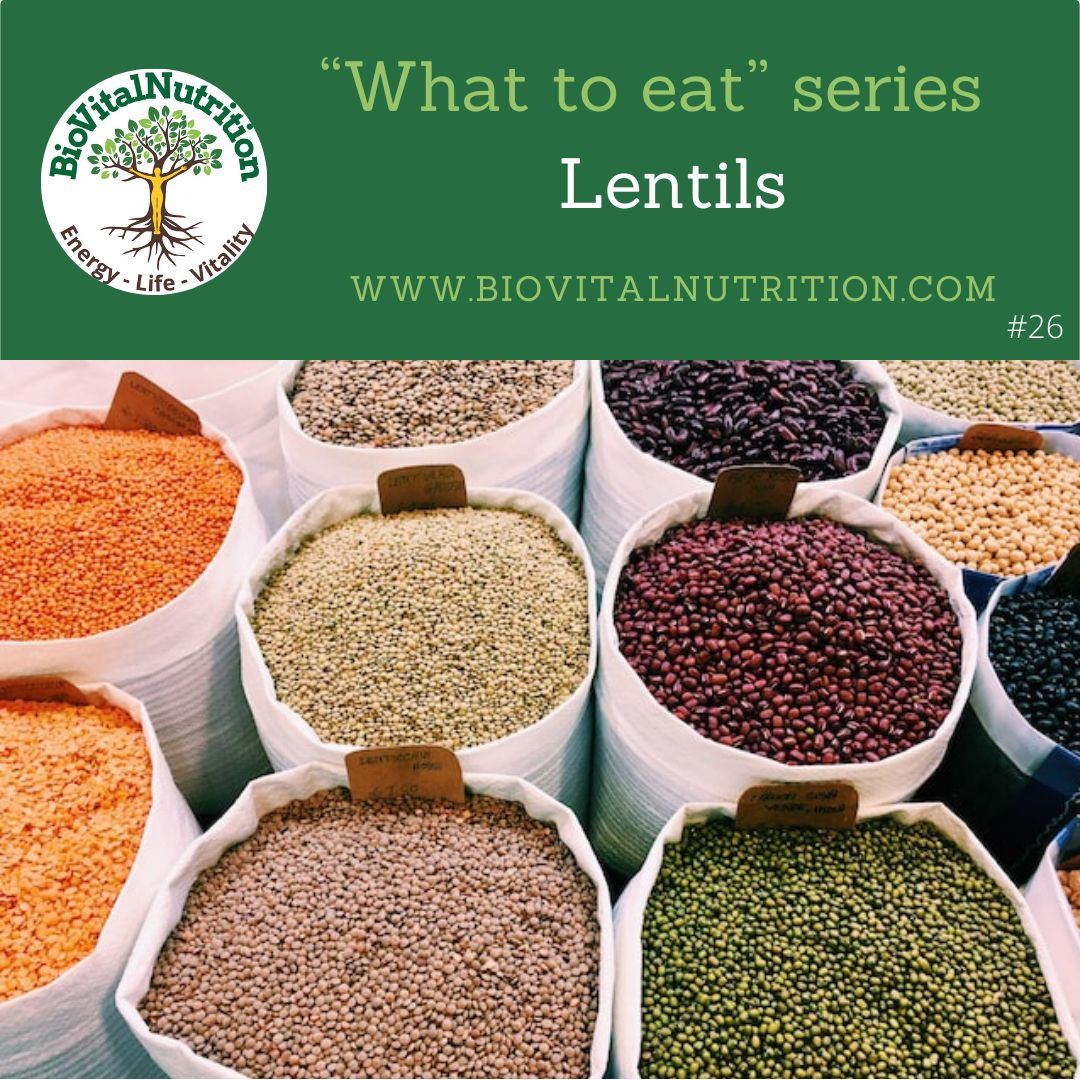 As you will have noticed from my social media posts, I am a big fan of lentils. They are easy to prepare and are a nutrient-dense, cheap and healthy addition to any dish. They are a rich source of fibre as well as plant-based protein, polyphenols and B vitamins, magnesium, iron, potassium and zinc.
There are many types of lentils: brown, dark green/black, green, yellow, red….
They are also a great option for vegetarian/vegan as a rich plant-based form of protein, especially when combined with wholegrain such as brown rice.
What are the health benefits of lentils?
Lentils are good for/as:
Gut health: as rich source of fibre, lentils support our microbiome (healthy gut flora) thus regulating bowel movements & digestion
Antioxidant: slow cancer cell growth and ageing
Anti-inflammatory
Mental health: through the gut-brain axis (see some of my blogs on the subject for more info), they support cognitive functions and mental health
Heart health
Weightloss: lentils are low in calorie and very filing, and as such are a great addition if you are looking to manage or lose some weight
It is to be noted that lentils contain antinutrients (trypsin inhibitors and phytic acid) which can reduce the absorption of some nutrients: soaking lentils overnight, discarding the water then cooking the lentils will minimize this. In any case, it is always best to rinse them before use and they are easy to prepare: 20-30 minutes boiling and that's it. Some types of lentils cook in even less time than this. Check the packet for instructions.
I love cooking quite a big portion of it – they keep very well in the fridge for a few days – so I can use them in a number of dishes over the week. They can be served on their own with other vegs, or topped with grilled chicken or fish, or if time is short, a can of sardines or mackerels. You can also blitz them with or without other vegs and have a hearty soup.
All in all they are very versatile, healthy and easy to add to any diet. So, if they are not part of your diet, I do recommend you have them. By feeding your gut bacteria, they will feed both your physical and mental health and contribute to increased wellbeing.
Do you have any lentil recipe you want to share? Any comment you want to make about them? Or are you looking for more advice to get more healthy? Feel free to share or contact me on 07788 444 199 / info@biovitalnutrition.com if you want to explore how nutrition can help you with health concerns you may have. Food can definitely improve our health: healthy food, healthy gut, healthy mind, healthy you!