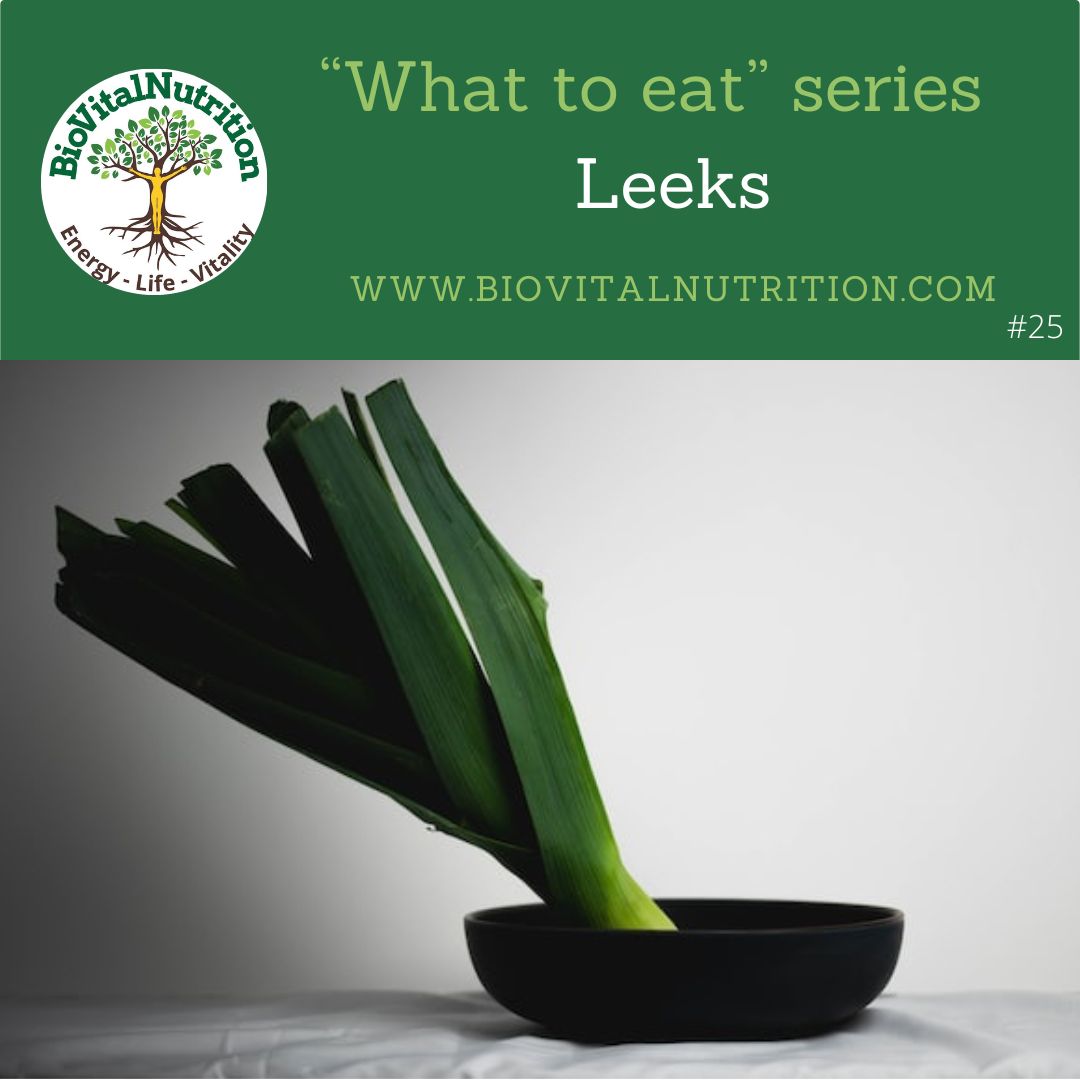 At the moment, I am getting a lot of leeks on my weekly fruits and vegetables organic box delivery. Leeks are very versatile but what are they good for?
Like onions, garlic, shallots and chives, leeks are from the allium family. As such they can be used as an alternative to these in a recipe: they certainly make me cry the same way when I chop them!
Leeks are nutrient-rich but low in calories. They are rich in carotenoids (which our body converts to vitamin A), vitamin C and K1, manganese, magnesium, as well as small amounts of copper, iron, folate, vitamin B6 and fibre. They also contain polyphenols flavonoids (especially kaempferol) and sulphur compounds (allicin) that are antioxidants, anti-inflammatory and antimicrobial.
What are the benefits of leeks?
Leeks can support the following functions:
Digestion
Healthy vision
Bone health
Immunity
Reproduction
Heart health
Weightloss
They are very easy to add to our diet but be sure to wash them thoroughly beforehand. I love adding them to soups: potato and leek soup is a classic! Topped with blue cheese, it is just delicious. But they can also be roasted or fried in a little bit of olive oil and served as a side dish. They are also great in stews or chopped into salads during the summer.
What about you, do you cook with leeks? How do you prepare them?
Share your delicious preps with us 🙂
👉 I am passionate about food & its incredible ability to support & improve health. You can find more ingredients' info, recipes and nutrition info on my website biovitalnutrition.com or feel free to contact me on 07788 444 199 / info@biovitalnutrition.com if you want to explore how nutrition can help you with health concerns you may have. Food can definitely improve our health: healthy food, healthy gut, healthy mind, healthy you!