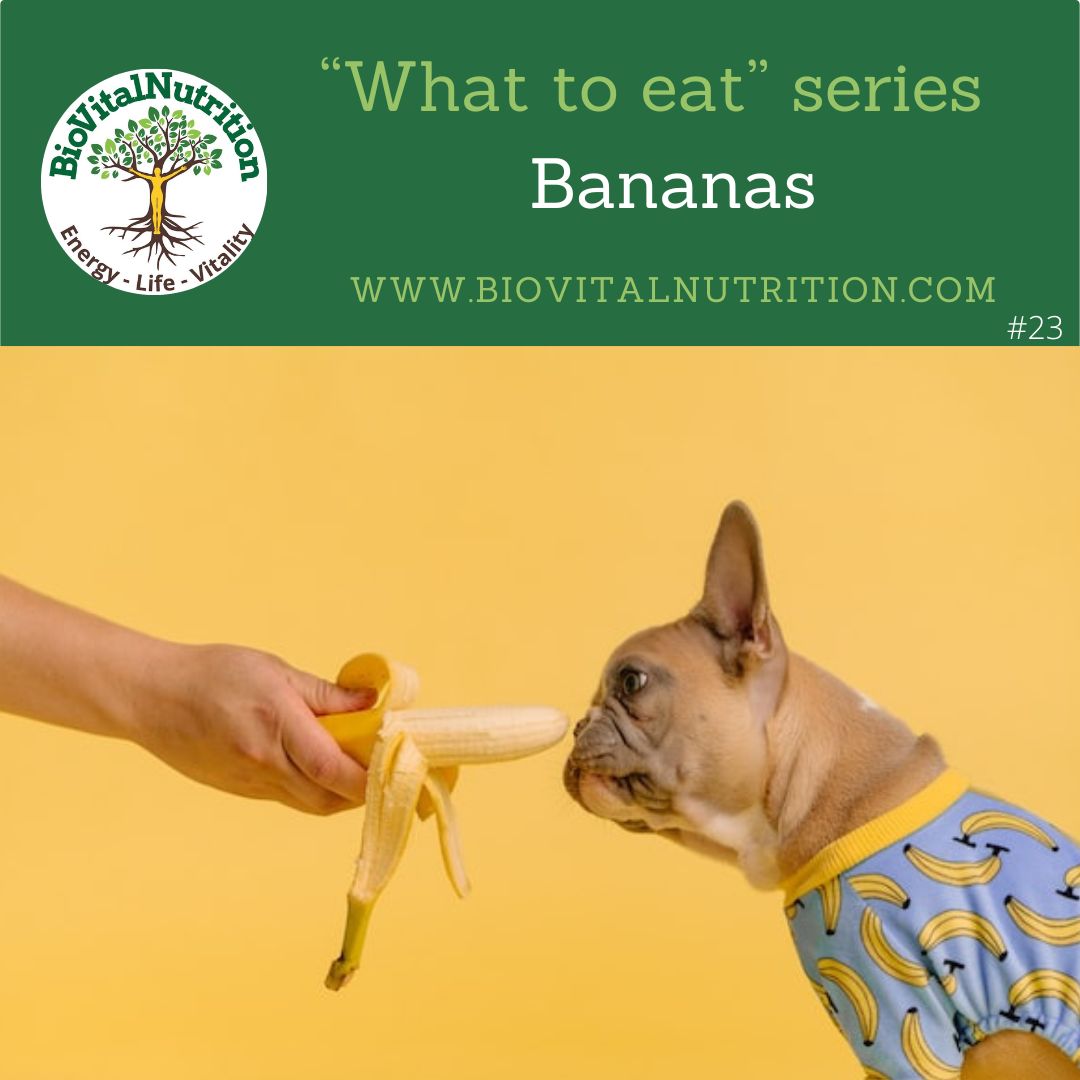 Recently a friend asked me if it was ok to eat bananas. So here is a bit more info about them.
We can find bananas everywhere these days, but they originally come from Southeast Asia. They vary in colour but the ones we are most familiar with here in Europe are yellow.
They are high in carbs: as starch when unripe, which converts into sugars when ripe. They also contain pectin, another source of fibre. This combination means that bananas are low GI (glycaemic index), meaning they raise blood sugars moderately.
Bananas also contain potassium, magnesium, vitamin A, B6, C, antioxidants (dopamine, flavonoids) and pre & probiotics.
Benefits of bananas
Modulate blood sugar levels (weight, obesity, diabetes, cardio health)
There are however, mixed opinions on this. Some argue that bananas raise blood sugar levels as they are high in sugars when ripe & should therefore be avoided by people with diabetes. But they are low GI so this rise is not dramatic. However, people suffering with diabetes should limit their consumption of this fruit.
Lower blood pressure (heart health)
Gut health (microbiome)
Anti-inflammatory
Immunity
Brain health
Caution: avoid bananas if you are on beta-blockers or are allergic.
Due to their inbuilt natural "packaging", bananas are the ultimate on-the-go snack, super convenient & easy to carry. They can be eaten raw, chopped into cereals, yogurt or smoothies, added to a fruit salad or cooked & added to many desserts.
All in all, bananas are good for you but like so many things, must be eaten with moderation. Eating with moderation allows you to have a more diverse diet (small quantities of many different things) which is the best formula for health.
What about you? Do you like bananas? How do you have them? Share share share 🙂
👉 I am passionate about food & its incredible ability to support & improve health. You can find more ingredients' info, recipes and nutrition info on my website biovitalnutrition.com or feel free to contact me on 07788 444 199 / info@biovitalnutrition.com if you want to explore how nutrition can help you with health concerns you are struggling with