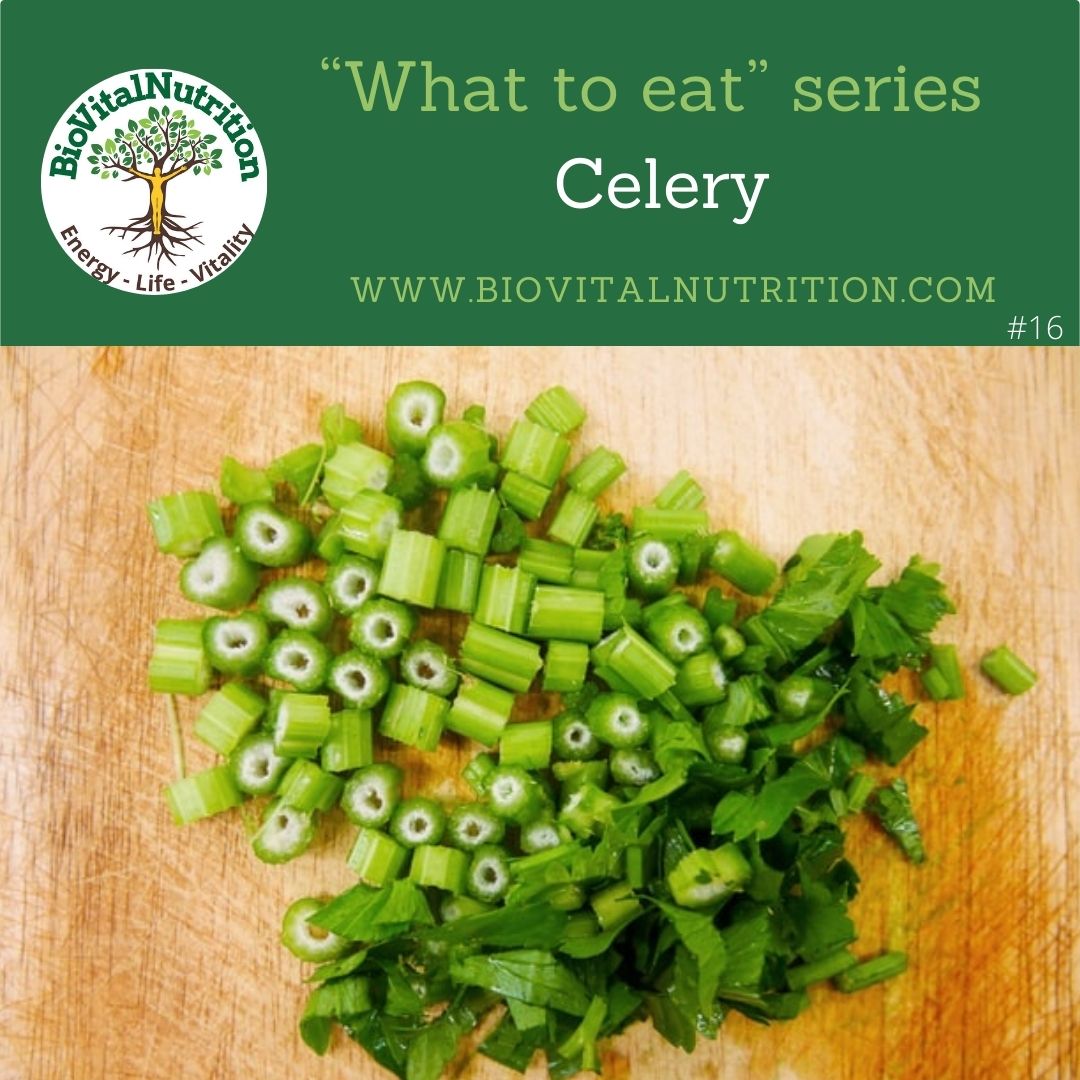 Believed to originate from the Mediterranean region, celery is a vegetable that is well known as a great low-calorie snack. It can easily be munched on, making it an ideal addition to your list of healthy on-the-go food. It comes in green stalk or seed forms.
Celery is mostly made of water (95%) & therefore extremely low in calories. In addition, it is low on the glycaemic index and can therefore assist with blood sugar balance. It is high in antioxidants (vitamin C, flavonoids, lunularin, bergapten, beta carotene), vitamin A & K, minerals (folate, magnesium, sodium, potassium, iron), fibre & polyphenols.
The benefits of celery
Anti-inflammatory
Weightloss
Gut health support
Blood pressure management
Cancer prevention
Celery can be eaten raw in salad, steamed, roasted or pan-fried & can be added to smoothies, juices or soups. The leaves are a rich source of calcium, vitamin C & potassium so do not waste them: they are great in a salad or topped with cheese! Raw celery is ideal with dips such as hummous or guacamole, making it (with carrots) a much healthier option than bread or tacos.
So if celery is not part of your regular diet, I would recommend you try it. I love its crunch & often use it as a healthy & light snack, in last-minute homemade salads (tossed with other vegs) or cooked with fish. Give it a try, you won't be disappointed!
👉 I am passionate about food and you can find more ingredients' info, recipes and nutrition info on my website or feel free to contact me on 07788 444 199 / info@biovitalnutrition.com
👉 And feel free to share any recipe or preps suggestion with me: I always love to learn new ways of having some of my regular food!