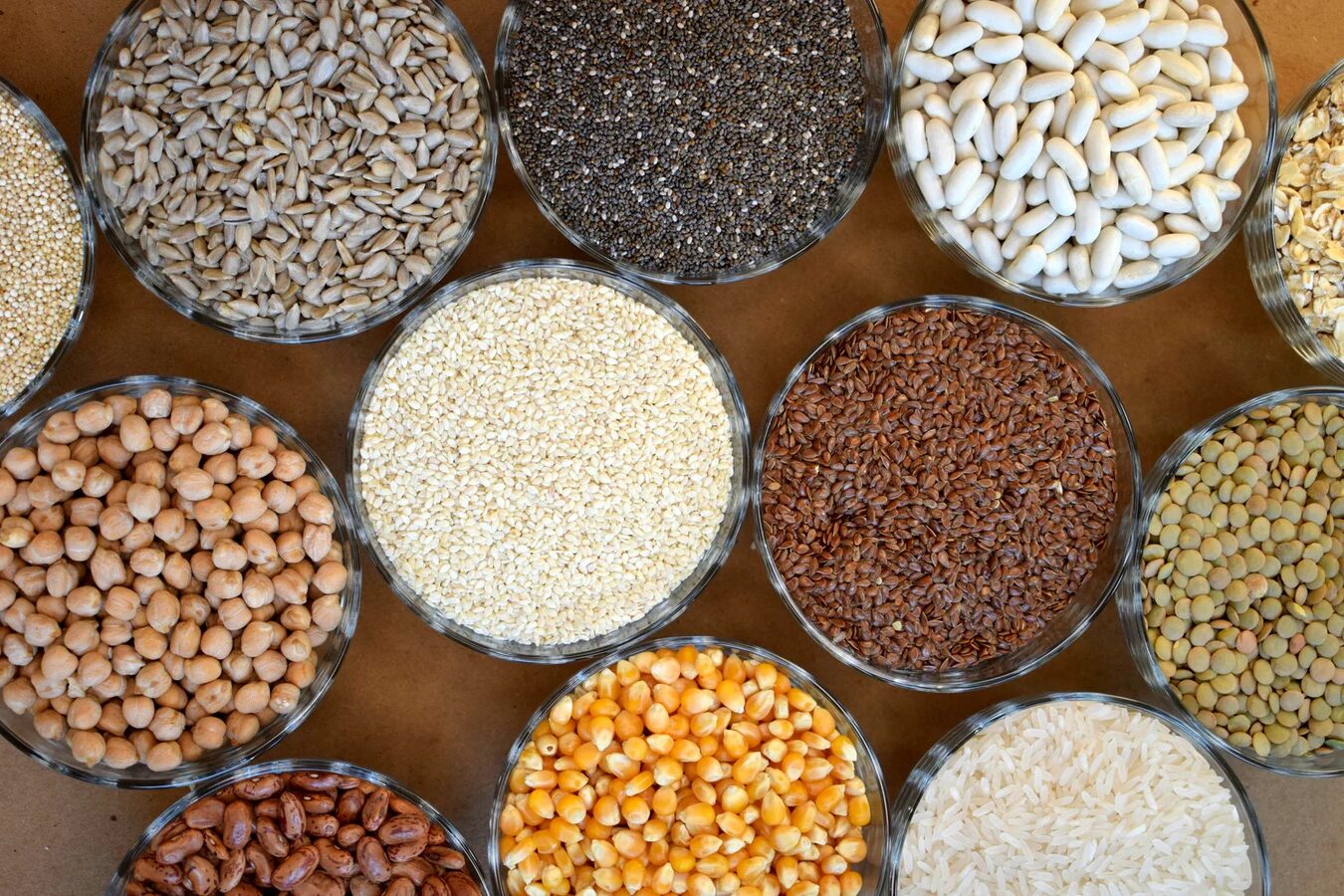 Are you confused with all the different grains available and don't know what is what?
In this blog, I clarify which grain is what and what you can eat – or not – if you have to be on a gluten-free or wheat-free diet. This makes it easy for you to know what to do and what you can concentrate on. There are many ways to prepare or cook these grains and I am sure I will write a blog about this someday but, in the meantime, there are hundreds of recipes online so don't feel shy and check them out: grains are a great addition to a healthy diet if you can have them.
GLUTEN is a protein found in many grains (cereals), including wheat, spelt oats, rye & barley but not rice, buckwheat, quinoa or millet. It is a very tough & sticky substance. Gluten sensitivity has been linked with multiple sclerosis, rheumatoid arthritis & schizophrenia.
WHEAT is a cereal grain that contains gluten.
BUCKWHEAT is not a variety of wheat & not related to wheat (confusingly!). It is the seed of a herbaceous plant related to dock & rhubarb. It is a rich source of flavonoid rutin. It is free of gluten & can be cooked like rice.
SPELT is related to the wheat family & is reputed to be more easily tolerated by wheat-sensitive people. It is high in fibre & rich in B-vitamins. It is a good source of protein & contains all 8 of the essential amino acids usually missing in non-animal foods.
KAMUT, also known as Triticum Polonicum, is related to the wheat family & has been used since ancient times. It is reputed to be easier to digest than wheat & can be tolerated by wheat­sensitive people.
QUINOA is actually the fruit of an herb that is native to the Andes. It is rich in all 8 essential amino acids, making it a complete protein. It is packedwith potassium & iron. It contains some zinc  & B-vitamins.
TRITICALE is a hybrid of wheat & rye & is higher than both in protein. It is rich in lysine, an essential amino acid often lacking in grains.
OATS. Oat bran has been shown to lower blood cholesterol levels. It is high in fibre.
BULGUR is wheat that has been steamed & dried before being ground. A traditional Middle Eastern grain, it is high in fibre, potassium & B-vitamins.
COUSCOUS is made from granular semolina wheat & is a good source of fibre, iron & B­vitamins. Not to be eaten on a gluten or wheat-free diet.
AMARANTH is a small seed that resembles millet & can be eaten as a cereal or a side dish. It is rich in lysine, amino acids & high in calcium & iron.
BARLEY is  an ancient grain dating back to the Stone Age. It is a good source of plant protein & is rich in B-vitamins & both soluble & insoluble fibre.
MILLET can be used to replace couscous. It is a good source of iron, potassium, niacin, magnesium and B-vitamins.
GLUTEN-FREE & WHEAT-FREE FOODS
All dried peas & beans
All fresh fruit & vegetables
All fresh meat & fish
All Herbs
All pure spices
Agar
Almond – flour & meal
All dried fruit
Arrow Root
Amaranth
Bicarbonate of Soda
Buckwheat
Butter
Carob flour
Cheese
Corn meal & flour
Cream of Tartar
Cassava – flour
Chestnut – flour
Chickpea – flour
Dried Banana Chips
Teff- whole, flour
Water Chestnut – flour
White sweet potatoes – flour
Yam – flour
Eggs
Flaxseed – flour & meal
Hazelnut – flour & meal
Jerusalem artichoke flour
Kuzu (Kudzu)-starch
Legume Flours
Lentils
Lotus
Pinto bean
Malanga – flour
Millet
Maize
Milk
Milo/Sorghum – flour
Nuts
Potatoes
Polenta
Poi – starch & flour
Quinoa
Rice
Rice Noodles
Sesame Seeds
Soy (some sauces contain wheat)
Tofu
Tapioca – starch flour
Wild Rice – whole, pasta
Wheat-free Pasta (rice, soya or corn)
Yoghurt
BLACKLIST – THINGS TO AVOID ON A WHEAT-FREE DIET   
Wheat
Bulgur
Durum Wheat
Strong, Bread, Brown, Wholemeal, Granary Flour
Semolina
Couscous
Wheat Pasta
Baking Powder
Stock & Gravy Cubes
Mustard Powder
Soy Sauce
Modified Starch
BLACKLIST – THINGS TO AVOID ON A GLUTEN-FREE DIET
Oats
Barley
Rye
Triticale
Spelt
Kamut
Glutinous Rice (check label)
I do not recommend going randomly on a gluten-free or wheat-free diet unless you have been specifically diagnosed with a condition that requires it. As such, it is important to consult with a Nutritional Therapist before taking any action as this could have detrimental effects on your health.
If you would like to find out more or discuss any concern you may have, feel free to check my services as a Nutritional Therapist, get in touch with me here or call me directly on 07788 444 199.